Presents
Raiveslake Made A Promise
'Neha'
DOB: 30th August 2012
Sire: Fenwood Marc Jacobs JW
Dam: Monfortmagic Pocahantas At Raiveslake
Neha is DNA tested clear of Progressive Retinal Atrophy (GR_ PRA 1 & 2)
Hips: 5 / 6, Elbows: 0
Current clear eye certificate

Neha at 21 months, ready to go back out into the ring after a 10 month break!
Neha is from Skye's first litter. She is an absolute gem, a fun loving little soul, packed with energy who just wants to play.
She had a brilliant start to her show career taking BPIB and Gundog Puppy Group 1 at her first show at 6 months and 3 days old!
Throughout the rest of her puppy career she went from strength to strength and was consistently placed at championships shows with qualifying for Crufts 2014 several times over!
After 10 months out of the ring, Neha went straight back in and qualified for Crufts 2015 by winning her class at Border Union Championship Show under judge Briony Athey (Ninell)!
The 6th June 2015, saw the arrival of Neha's first litter to CH Xanthos Espionage JW.
Neha gave birth to four boys and four girls each one a different shade of gold!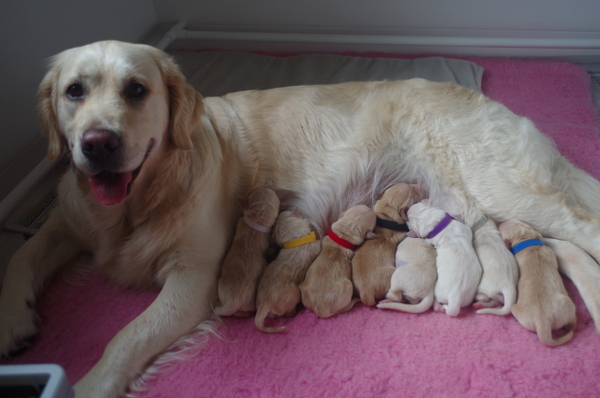 The proud mum :)
On the 25th March 2017 we welcomed the arrival of Neha's 2nd litter to
UK Sh Ch & Lux Ch Zampanzar Say It Again Shardanell JW.
Five little princesses and three princes were born by C Section.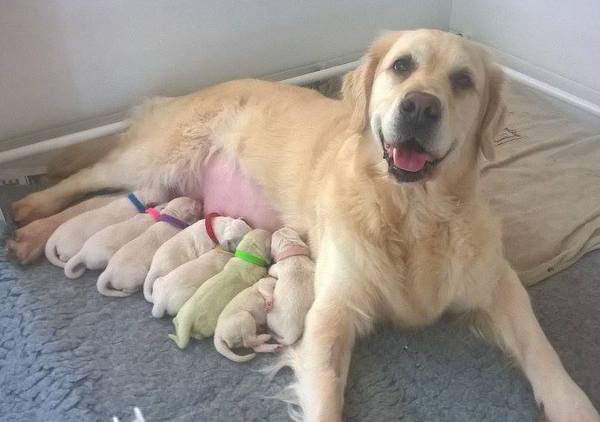 A happy, smiley mum :)
2020 saw Neha and Ash go to stay with my daughter in Hemel Hempstead. They were only supposed to be staying during the first lockdown but they have firmly planted their paws under the table and have stayed put.
They are truly spoiled and loving life down south!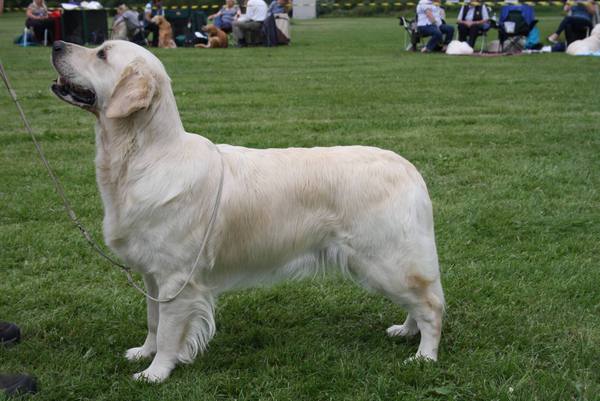 Neha at BDCGRC July 2014, 2nd in Yearling and 1st in Undergraduate.
Photo by Paula Hill (Sandaula)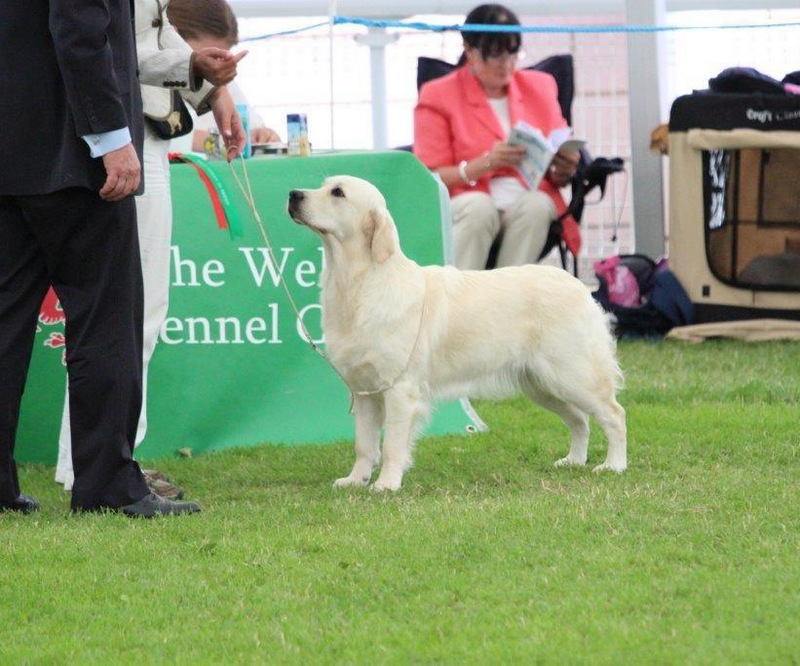 Neha at WKC under John McCreath (Glentayne)
3rd Puppy, 2nd Maiden, 2nd Novice
Photo by Paula Wilkinson ( Pajula)
Here are some of Neha's critiques:
"Two quality 8 month old puppies of different types making a close decision. Ayling-Jones's Raiveslake Made A Promise. More compact, another very nice puppy bitch. Nicely proportioned feminine head with darkest of pigment and lovely dark eye. Good bone, straight front and nice cat-like feet. Level topline and correct tailset. Well presented in cream coat of good texture. Moved well."
Tina Thomas (Sandti)
" 1. Ayling-Jones' Raiveslake Made A Promise. Very promising youngster, kindest of expressions, with dark eye and pigment, good in front, neck and shoulders, short in loin, adequate stifle, looked good on the move"
Lyn Strudwick (Burpham)
"1st Ayling-Jonesí Raiveslake Made A Promise, 11 mth bitch, good pigment, nice skull, solid neck into well laid shoulder, deep chest, good angles front and rear, level topline moved with ease and drive BPIB, BOB"
Fred Ellingford (Afterglow/ Klugmaus)

YB (16) "1st Ayling-Jonesí Raiveslake Made A Promise, well balanced pretty bitch, lovely head with sweet expression. Good length of neck into well placed shoulder, exceptional strong level topline and tailset, very good bend and width of stifle, with straight hocks. Attentive to her owner when stood and whilst on the move"
Briony Athey (Ninell)
YB "Ayling-Jones' Raiveslake Made A Promise, another girl I have often admired from ringside, she has matured well, a square outline, enhanced with her super topline & forehand construction, kind gentle expression, good reach of neck, straight foreleg, tight feet, good spring of ribs, well rounded hindquarters, with good bend of stifle, presented in hard condition & coat of good quality. "
Paula Hill (Sandaula)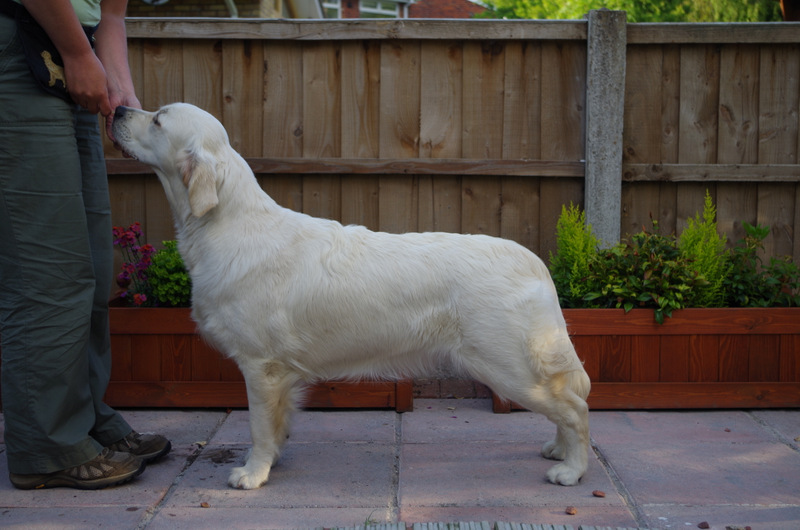 Neha aged 9 months!
Pedigree of "Raiveslake Made A Promise"

Parents
GrandParents
GreatGrandParents
SIRE

Fenwood Marc Jacobs JW

Vdh Ch, Su(U)Ch Dewmist Servantes Lux. Jch.,

Su(U)Ch Nordv-03 Nuch, Erinderry Gaelic Minstrel
Swe & Pl & Lv Ch, Dewmist Shaquille
Sh Ch Ramchaine Green Glow by Fenwood JW
Sh.Ch Erinderry Just The Ticket From Bluewaters
Sh Ch Remington Requisite of Ramchaine

DAM

Monfortmagic Pocahantas At Raiveslake

Gillbryan Fisherwick
Gracewood Castaway To Putjade
Gillbryan Cinmarsh Calulla
Gillbryan Rachel's Girl At Monfortmagic
Ronjalee Ragamuffin At Motlaisa JW
Gillbryan Inchagoil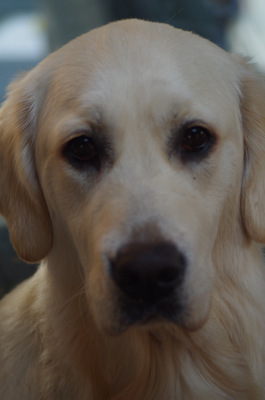 Our Princess growing up ♥
Who can say no to that face???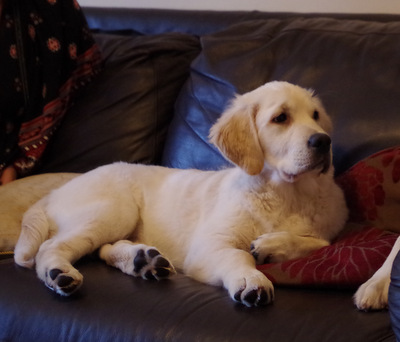 Relaxing on the couch, Boxing Day 2012 x
Neha at 10 weeks and looking just like her mum x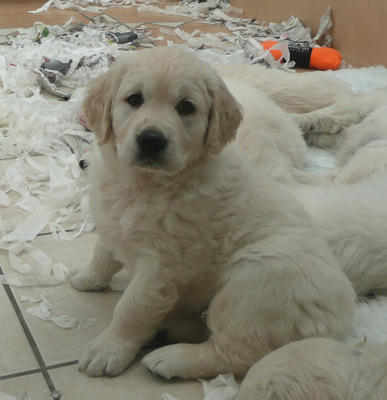 Neha at 7 weeks x